Home

/

Getting through a natural disaster: All Sorts flyer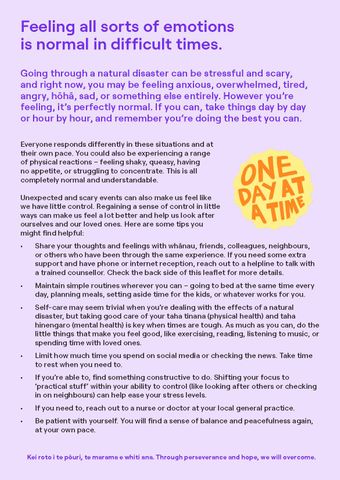 Getting through a natural disaster: All Sorts flyer
Description
Feeling all sorts of emotions is normal in difficult times.
Going through a natural disaster can be stressful and scary, and right now, you may be feeling anxious, overwhelmed, tired, angry, sad, or something else entirely. However you're feeling, it's perfectly normal. If you can, take things day by day or hour by hour, and remember you're doing the best you can.
This flyer offers tips and information to help support yourself and your whaanau to get through.
Also available as a downloadable resource in 8 different languages - click here to find out more.

Please note: Unfortunately this website is unable to display macrons in the body text of pages, so we have had to use double vowels where a macron should be placed. We apologise for this and are working on fixing the issue.
Downloads